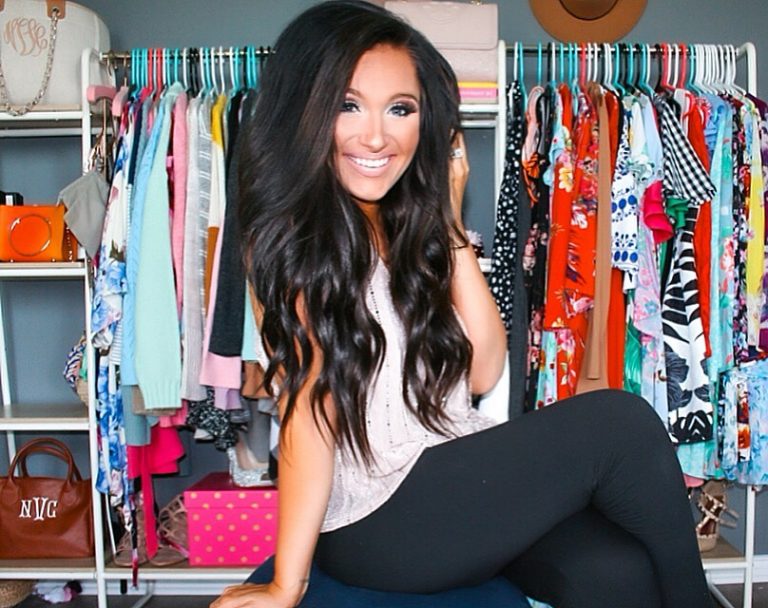 JUST A LITTLE ABOUT ME
Haiiiiii there gal pals! Lots and lots of new faces around here lately, so I wanted to take a second and say THANK YOU for following along. You have no idea how grateful I am that you're here and I hope you stick around! Just wanted to share a few fun facts about me – leave a few about YOU in the comments!! 💗

1: I've been a vegetarian for over 10 years. This is often confused with being "healthy", but pizza and chips are my fav food groups. Also, I could eat the same meals on repeat for my entire life. My co-workers always tease me because I'm always stinking up the work kitchen with steamed broccoli and cauliflower, literally daily.

2: I'm crazy obsessed with Christmas. If I could, It's a struggle for me to wait until the day after Halloween to start pulling out the decorations. Our entire attic is dedicated to Christmas decor and I have 4 trees! 🎄
3: We've lived in Kentucky, Chicago and Texas. I miss city life in downtown Chicago and warm weather in TX on a daily basis! Both were much larger areas and had a ton more to do, plus we were a few minutes away from the best stores and restaurants. All that being said, we wouldn't trade any of it  for the ease of being a few minutes away from family here in KY. 💙
4: I've worn hair extensions for over 10 years. I wear clip-ins and change them out about every 6 months. My hair is the same length as them now, but I just love having lots of fullness and volume. There's a full blog post covering hair questions here! 

5: My least favorite things include: doing laundry, mayonnaise, jean shopping, any form of exercise and hair wash day.

6: Both of my babies have used the crib my dad built for me when I was a baby. 💙 My mama wanted a specific crib that they couldn't afford when they found out she was pregnant, but my dad really wanted to get it for her. He went to the store, measured the crib and re-created it himself. He repainted it to match their nursery. It's my favorite piece of furniture in our home!

7: I hated my name when I was little and wanted to change it to Chloe. My mom wouldn't let anyone call me anything shorter, like "nicole" or "nicky" and everyone always mispronounced it. Oh, how I dreaded the "introduce yourself" time on the first day of school. Now I'm so thankful my mama picked something so different!

8: I've watched Gossip Girl start-to-finish over 10 times. Team Chuck and Blair for life. 🖤

9: We're usually in bed by 8:30 every night, even weekends. On the rare occasion we have a night out, I'm struggling to keep my eyes open past 10!

10: I accidentally ran my little brother over with a golf cart and he had to spend Christmas in the hospital when we were little 😅 I dread the day my boy clan starts asking for anything motorized!

I hope you had a little fun and a few laughs! I always love reading these kinds of posts and hope I can mix them in more often. I'm thinking about making "fun fact friday" a thing on instagram – what do y'all think?? Share a fun fact about yourself in the comments below!